Hola everyone. Thanks for stopping by! Today is Juneteenth-a holiday celebrated on June 19th to commemorate the emancipation of enslaved people in the United States. Juneteenth is also known as Freedom Day or Emancipation Day.
Celebrations began with enslaved people in Galveston, Texas. Although President Abraham Lincoln's Emancipation Proclamation freed the slaves in 1863, it was not enforced in many places in the South until the Civil War ended in 1865.
News that the war had ended and they were free finally reached the enslaved in Galveston on June 19, 1865, more than two months after Confederate Gen. Robert E. Lee surrendered to Union Gen. Ulysses S. Grant in Virginia.
To celebrate today, I created a clean and simple card using the Hero Arts Rainbow Infinity Dies Set.
Card Instructions
1. Adhere

a 4" X 5.25" white cardstock panel to a an A2
card base.
2. Die-cut the rainbow arcs in Cherry, Mustard and Meadow cardstock
and adhere to the card panel.
3. Die-cut 1,8,6 and 5 in Pitch Black cardstock; adhere to card front
beneath the rainbow. You may use, dies, stickers or even your own
4. Using a hole punch-cut out small circles in
Cherry, Mustard and
Meadow cardstock; adhere to card.
Today you can learn more about Juneteenth by...
*Reading books/articles about Juneteenth
*Celebrating Black creatives
*Supporting Black Owned businesses
*Committing to anti-racism
Thanks again for stopping by!
SUPPLIES:
If you are inspired to shop Hero Arts products I used to create my card-compensated affiliate links are listed below. I will receive a small portion of any product purchased at no additional cost to you. Thanks for your support.
USE CODE: PAM10 today for 10% off of your order!! Code is good though June 30, 2023 !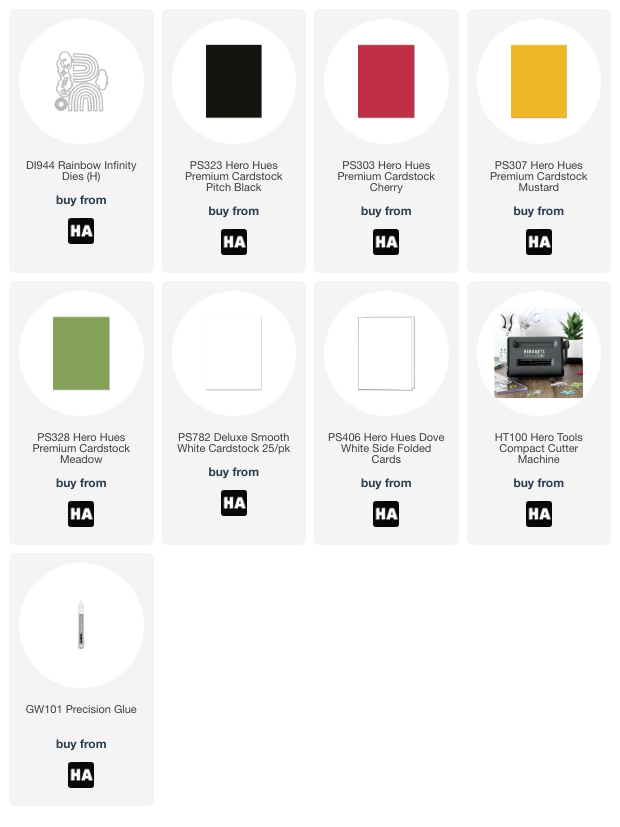 *Disclosure: This post contains affiliate links and I will earn a small commission when you make a purchase through the links at no additional cost to you. Thank you.